Bishop Sutton PTA
Next event is the PTA Lets' Make a Rainbow - a mufti day on Friday 1st December: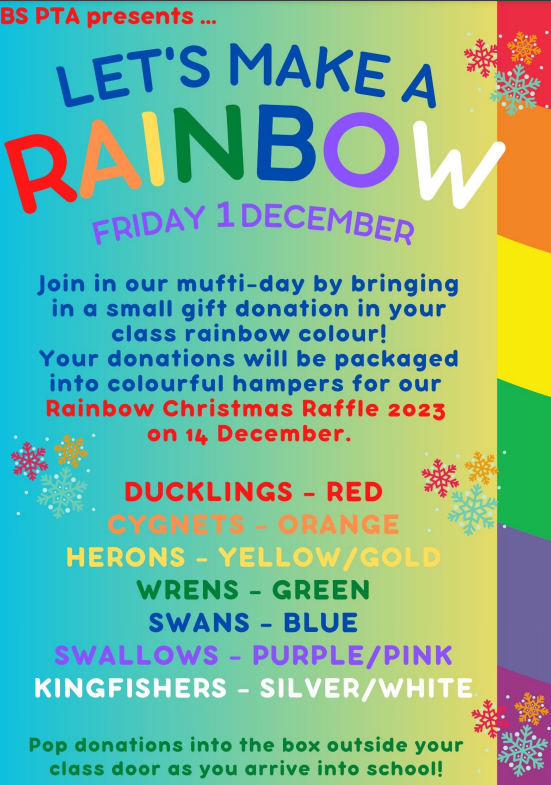 Click here for details of our new school lottery
Click here for the latest PTA newsletter Term 2 (Nov 2022)
Click here for the PTA newsletter Term 1 (Sep 2022)
We are a very friendly and active group of parents who help organise lovely events for our children, such as school discos, after school film nights, Christmas and Easter fairs as well as adult and community events such as quiz nights, auction nights and wassails.
Through the generous support from our children, parents and teachers at our events and online fundraising, we have been able to pay for school trips, new books for the school library, outdoor adventure days, classroom essentials, educational subscriptions, cooking lessons, playground and forest area equipment.
We very much welcome all parents, new and old to join us, it is a great way of meeting other parents and help to get involved in your children's school.
For more information about how you can get involved please contact our chair, Melisa Arnold by email:
PTA@bishopsuttonstantondrew.co.uk
Amazon Smile
Each time you shop on Amazon Smile, you can raise FREE donations for things you are buying anyway, at no cost to you! It's the same products, prices and service as Amazon.
Simply shop at smile.amazon.co.uk and nominate 'Bishop Sutton School Society' as your chosen charity. Shop as usual and 0.5% of your spend will go to us for FREE.
Easyfunding
Did you know that whenever you buy anything online – from your weekly shop to your annual holiday – you could be raising free donations for Bishop Sutton School Society with easyfundraising? There are over 7,000 brands on board ready to make a donation – including eBay, Argos, John Lewis, ASOS, Booking.com and M&S – and it won't cost you a penny extra to help us raise funds.
All you need to do is:
1. Go to bit.ly/easyfundingbishopsutton and join for free.
2. Every time you shop online, go to easyfundraising first to find the site you want and start shopping.
3. After you've checked out, the brand will make a donation to Bishop Sutton School Society at no extra cost to you whatsoever!
There are no catches or hidden charges and Bishop Sutton School Society will be really grateful for your donations.
Your School Lottery
Play the lottery, support our school - it's that simple! Tickets for the lottery cost just £1 per week, with a top prize of £25,000. Each ticket will consist of 6 numbers and each number will be between 0 and 9. There will be a draw every Saturday night when a 6 digit winning combination will be picked. Match all 6 and you win the JACKPOT! There is also a guaranteed winner for each school every Saturday which is drawn on a raffle basis, so there are two chances to win a prize.
Buy tickets here
Standing Order
Some parents are able to be very generous and use standing orders to support various charities including the school. Might you be able to make a regular monthly donation to the school? A small monthly donation (with the Gift Aid it will attract if you are a tax payer) will really add up. A link to the form is below if you feel able to support us in this way.
Link to Standing Order Mandate Form is here
With best wishes from Bishop Sutton PTA