Uniform
School Uniform
Children are expected to wear school uniform at all times unless otherwise specified.
(For example, Reception children do not wear uniform for Forest school sessions).
Pale blue polo shirt (plain)
Navy blue sweatshirt or cardigan with logo
Grey trousers, shorts, skirt or pinafore dress
Plain black shoes (see examples below*)
Blue and white summer dress (optional)
PE Kit:
Navy Blue t shirt with logo
Black shorts
Black plimsolls
Plain dark long-sleeved sweatshirt and tracksuit bottoms for outdoor games
Trainers (no flashing lights) for outdoor games
Optional items also available with logos:
Logo items can be ordered directly with our named suppliers. Details and order forms are available in the office.
Jewellery should not be worn due to the risk of loss or damage. If children have pierced ears, then studs should be worn to school but removed for P.E.
*School Shoes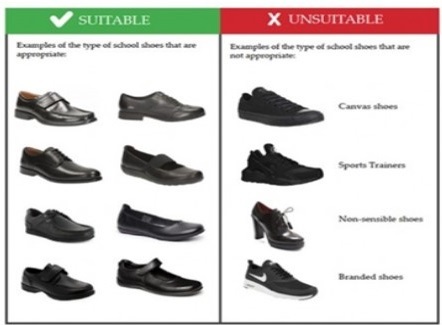 Book Bags
Children are expected to have a bag to bring their reading books and diaries back and forth each day and to take home any letters or notices – so they should be checked every day. (NB most letters are sent electronically).